About Mint Audio engineer - Richard Moore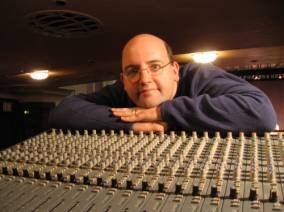 A Brief Biography
Richard Moore was born in Leicester in 1972 and was educated in both Leicester and Hereford (where he was a chorister at the Cathedral).
He has worked as a sound engineer in various capacities for near 20 years. He was made Head of Sound at his local 'Little Theatre' at the age of 15 and at the age of 18 took his first sound engineering course at SAE in London. This led to a second course in 1992/3 in Advanced Sound Engineering at ALCHMEA in Islington where he was one of the first students and even helped build the studios!
After gaining this diploma (with distinction) he began working as a freelance assistant engineer working with various artists at several studios around the country, particularly Square Centre in Nottingham and Jacob's in Surrey.
In 1995 he became a staff engineer at 'Blackpool Winter Gardens' where he worked on everything from Pantos to Party Conferences. Whilst this was mainly live work he also worked as their recording specialist.
In 2000 he left the "Winter Gardens" to work for Blackpool Borough Council and LEA – where he worked as a recording engineer for both Bispham High School Arts College (also running a recording studio there) and Blackpool Music Service (covering sound and technical requirements across the borough) and later as a freelance engineer.
His career in Audio Restoration began as a sideline, although it has always been an interest, and he has a very in-depth knowledge of recording history and recording techniques. A number of years ago he was asked to help restore some material from the Peter Sellers archive and later the Estate of Flanders and Swann.
Richard then came to the attention of the Matt Monro estate and became the estate engineer working on all projects from them since 2006.
This has also led to work with the Cyril Stapleton and Roy Budd estates and transfers and restoration work for June Marlow. Releases for both major and smaller record labels followed as well as starting a small record label himself specialising in re-issues – www.mint-audio.co.uk

Richard has also co-authored "Special Reserve" – The complete recording sessions of Matt Monro and a two part special on the Beatles Star Club recordings with Hans Olof Gottfridssonn for Record Collector Magazine
Other projects have included Production, DVD Authoring, sleeve notes, first-time stereo mixes and more.
More information on Richard's initial work with the Matt Monro estate can be found here. Matt Monro Website